Do I Need a Dog Guard if I Have a Dog?
If travelling by car within the UK, please consider fitting a dog guard to your car for both yours and the dog's safety. Below is a short video reconstruction showing the effects that a 30kg Labrador would have if thrown through the air whilst travelling in a car at 30mph.
What Does the Law Say about Restraining Dogs in the Car
Some dogs can become stressed or excited when in the car and it is advisable to keep them contained, so as not to provide a distraction to the driver. Some of the more substantial dog guards, when correctly fitted, may help to prevent a dog being thrown into the passenger compartment of the car and causing injury to the passengers in the unfortunate event of an accident. The United Kingdom 'Highway Code' states: 'When in a vehicle make sure dogs or other animals are suitably restrained so they cannot distract you while you are driving or injure you if you stop quickly'.

We are now seeing an increasing number of taxi operators purchasing Travall custom made dog guards as load restraints, especially when the taxi operator regularly performs airport runs as they can see the safety benefits of minimising the chances of luggage being thrown forward into the vehicle in the event of sudden breaking.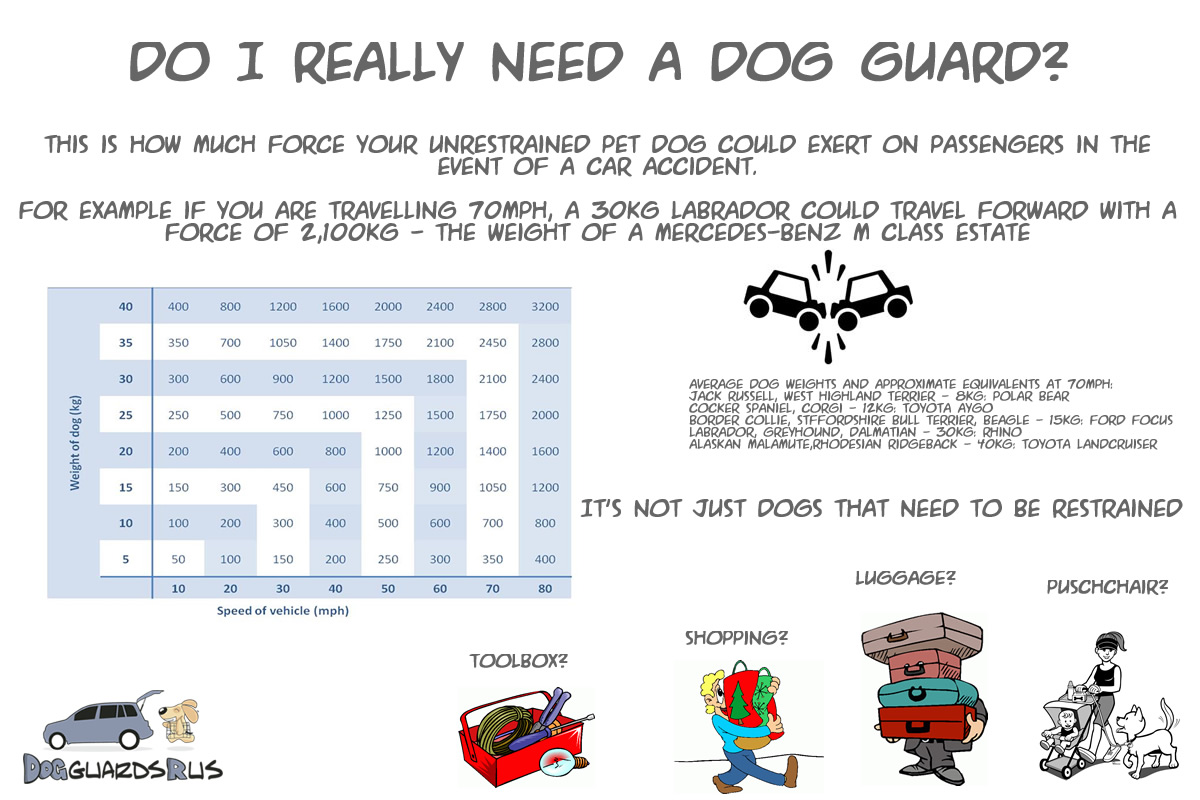 Which Dog Guard Should I Buy?
We stock dog guards from Travall and V C Saunders in an attempt to offer you something that will suit your budget and intended use. Most company car operators and lease companies will prohibit drivers from fitting a dog guard to their vehicle which involves drilling - for this reason the vast majority of our dog guards (with the exception of a few Landrover guards) require absolutely no drilling or permanent modification to your vehicle. Most dog guards can be DIY fitted in minutes and do not require any special tools to fit, this saves you a fortune compared to dealer fitted dog guards which are often drilled into your vehicle and have the added labour cost associated with them.
If you need some help at deciding which guard is for you, take a look at our guide at https://dogguardsrus.co.uk/best-dog-guard
Can I Divide my Boot?
In response to dog owner demand, dividers, bumper protectors and boot mats have been added to the range of Travall products we sell. The boot dividers do what they say, splitting the boot in 2 (normally about 50:50, but some will split 60:40) and need to be fitted to the corresponding Travall dog guard - many owners have found these a great addition allowing them to use half of the boot for luggage and half for the dog. We have also supplied dog guard and divider kits to dog walkers who use the divider to separate 2 dogs during transport.
What else can I use in my car to keep it clean?
If you've ever experienced that moment when your excitable dog is scrabbling to get into the car boot and the sudden realisation that your bumper paintwork has been heavy scratched you'll realise why the Travall Bumper Protectors are so popular! Easy to fit, they help protect the paintwork from dog paws, and of course other items you may load into the car.

The Travall boot mats are good quality mats that help to protect your boot floor and are custom made for each vehicle so they fit perfectly - unlike other mats these are made to be used with Travall dog guards and dividers so you are guaranteed a good fit .
Taking your Dog on Holiday to Europe?
When travelling to Europe with your dog, it is advisable to check out the Defra website for the latest requirements on the required vaccinations and "PETS Passport" that your dog will require. In some European Countries, the law does not allow dogs to travel loose in the vehicle. Never driven abroad before? Have a look at the Foreign & Commonwealth Office website for advice.